Ciao
If your pictures aren't good enough, you aren't close enough.
Robert Capa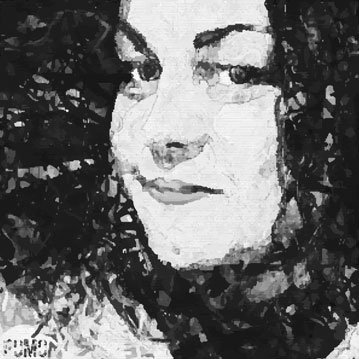 As many photographers I don't like to be portrayed, since I prefer to be behind the scene and not in front of the camera. For this reason I chose to introduce myself with this special mashup portrait of the artist Andrea Pomini.
Read more about me, my passions and professional skills in the "About Me" section.
Find out more about my offers and see my pictures by looking at the page "Services".
What they say about me
Our best decision, besides vacationing in Tuscany with our family and friends, was having Illaria as our photographer for the week. Not only are her photography skills amazing, but her bubbly personality and knowledge of the various cities we visited made this trip so spectacular!!!! We were so overjoyed when we received the preliminary photos on the last day of our trip and the final product within two weeks of us leaving Italy. The photos are so beautiful and really capture the moment for all of us. We also cherish the friendship that we made with Illaria (as well as her husband Silvano). We are coming back to Tuscany in the next couple of months, and we look forward to having Illaria included in our plans.
In 19th century when photography was invented people believed it could capture your soul. Well I can say it's true. When I look at Ilaria's pictures I see the souls of the people she took the picture of.
In addition she's a real professionist: she does what she says aiming to perfection.
I approached Ilaria after seeing her portfolio online. We came to Italy for renewal of vows for my parents, and Ilaria was very easy to work with, from the initial emails to find a date, she arrived on time, was very patient with all the noise and people and our requests. We were a very versatile group – between the ages of 1-75, and she was great with everyone. The pictures were sent to us promptly and we have an amazing reminder of that wonderful day!
I strongly recommend Ilaria as a photographer.
Ilaria Vangi is not only a talented photographer but she is also a pleasure to be around. Recently, she took some poignant shots at my civil wedding at the Palazzo Vecchio in Florence and she captured the moment so perfectly, I know I will treasure these photos for years to come. I highly recommend Ilaria for not only her incredible skill, but for her sunny disposition.
Ilaria is one of those photographers who always spots the right details, catches the right moments, or sets up the right scenes. She is generous with her time and skills and always a pleasure to work with.
Ilaria did an absolutely fabulous job for us! The location and lighting selections were perfect and she was very reasonable.
I opened my Instagram account @lili76photo four years ago, but turned it into a black and white photo gallery two years ago. It's an online diary of my travels, passions and daily life.
I love to take a look at my past pictures, since they remind me the sensations I felt when I took them.